Morrisons Signature packaging shoot
by
Food Photographer london.
Shooting Food photography for Morrisons Packaging by food photographer London, Michael Michaels
I thoroughly enjoyed shooting more of the Morrisons Signature range in summer, no doubt to be in time for the Christmas rush. Most people don't realise that packaging and advertising photography has to be carried out several months ahead of time in order to get all the artwork approved and new boxes printed, before they can be packed with the new foods and appear on the shelves or in the food ads across London and beyond.
I love the style of photography they chose, moody and atmospheric, great to get that Christmas festive party feel across or any party for that matter.
Food photography for packaging requires a huge amount of attention to detail as the packs are quite often out on shelf for quite a while and usually closely scrutinised by the customer so even when a casual feel is required, with the likes of oozes, drizzles and crumbs, careful thought and consideration needs to be given to this, a kind of organised randomness.
The benefit of shooting digitally now means we can have a digital overlay of the artwork, superimposed on the live image as we set up, making sure everything fits perfectly and nothing gets in the way of any crucial parts of the graphics or that the main parts of the food are not hidden under the graphics either.
Behind the scenes with food photographer London
Here I am snapped by my assistant making a few final tweaks to the set at my London based studio, before taking the final shot.
To see more of my packaging and published work, see my gallery here or to see more of my blog posts, about other aspects of my London Food Photography, click here or to see more other clients I have worked for, check out my client list, here.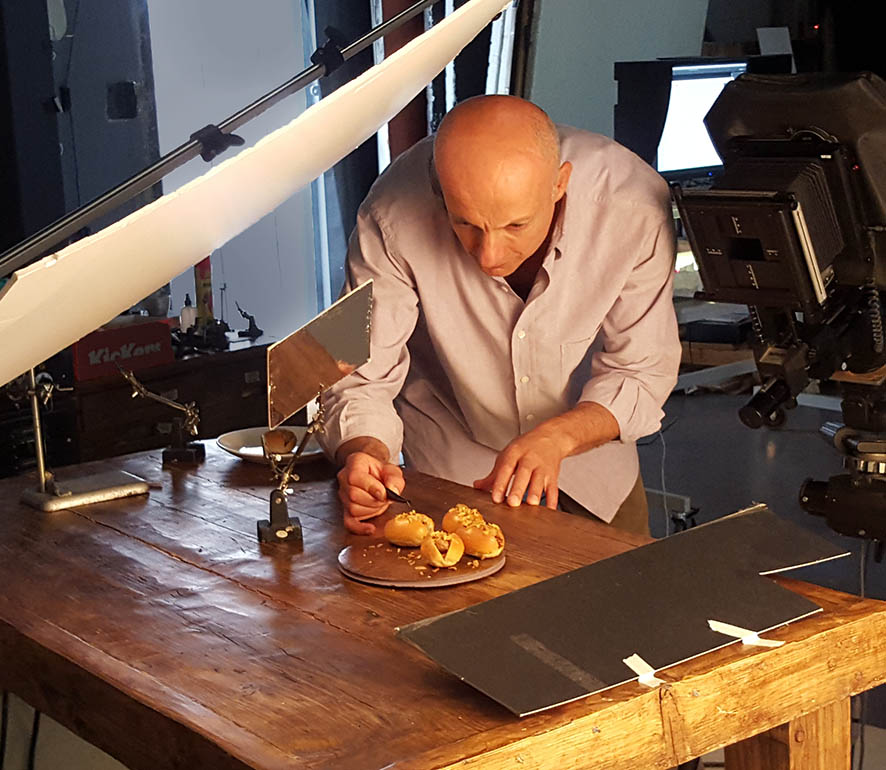 To see my sweet food photography click here
To see more of my savoury food photography click here
To see my extensive food library click here