Thai Chicken Noodle Soup
by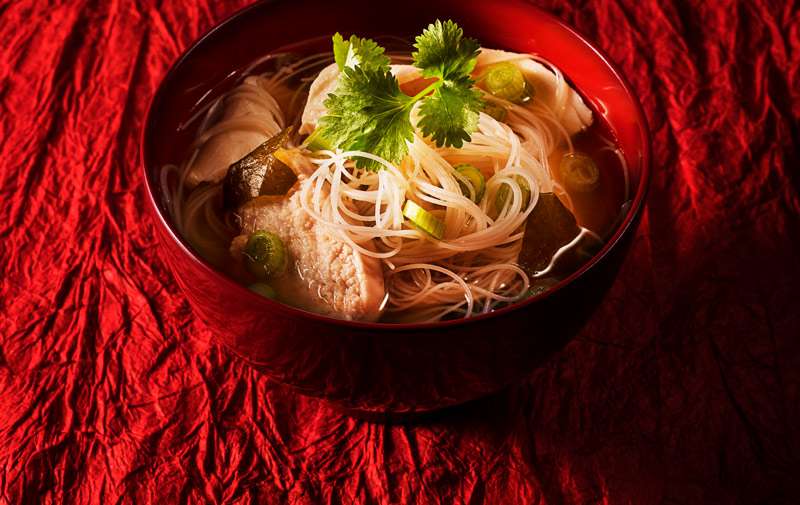 Delicious Thai soup recipe by London food photographer Michael Michaels
Thai soup has a delicious flavour and wonderful fragrance to it, while at the same time, it's a relatively light soup to eat. I think this is why it's one of my favourite soups of all time. Here is a fairly simple recipe for 4 that will take about 40 minutes to prepare and cook.
To make this delicious soup for 4 people you will need:
½ yellow or white Onion thinly Sliced

1" fresh ginger, peeled and rough chopped

2 sticks lemongrass, rough chopped

3 Cloves garlic -sliced

1-2 tbs oil

3 pints chicken Stock

2 tsp Thai style fish sauce

5-6 kaffir lime leaves (optional

1" sliced galangal (optional)

2-3 chicken breast portions sliced into uniform medium thickness slices

4-6 oz. vermicelli rice noodles

4 spring onions, sliced

Coriander to garnish

1 medium chilli, sliced if you like heat
Method:
In a large pan, heat the oil over a medium heat and add the sliced onion. Fry until lightly browned.
Add the ginger, garlic, galangal and cook for a few more minutes to release the flavours.
Add chicken, chicken stock, fish sauce, kaffir lime leaves. Bring to the boil, then turn down to simmer for about 10 minutes, allowing the flavours to come through.
Add the rice noodles, which will cook very quickly and half the sliced spring onions.
After a few more minutes, when the noodles are cooked, the soup is ready to serve.
Garnish with the remaining spring onions and coriander.
For those that like chilli, you can of course, also add some sliced chilli with the garnish or when adding the noodles http://portlandspirit.com/blog/christmasshipsgambler/ .
Happy Eating.